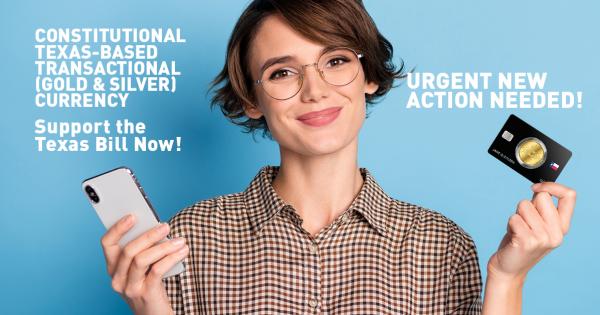 Americans for Financial Freedom
URGENT: This is the last chance for Texas Transactional Currency to pass in this session.

THANKS TO ALMOST 2.8 MILLION ACTIONS LEGISLATORS ARE HAVING A HARD TIME IGNORING THIS. BUT WE NEED YOU TO RESPOND AGAIN.

BAD NEWS: Despite broad bipartisan support for HB 4903, a successful hearing, and the bill being put on the calendar for a vote, the session timed out before being voted on. THIS IS UNACCEPTABLE!

GOOD NEWS: This can still happen in the Senate with the successful passage of SB 2334 and then reconciliation with the House.

All focus is needed at the Senate level now. We need you to call your State Senator now for immediate follow up. THIS IS URGENT! Also, contact Gov. Abbott and Lt. Gov. Patrick for their support

EVEN IF YOU WERE PART OF A PREVIOUS CAMPAIGN, WE NEED YOU TO TAKE THESE NEXT TWO STEPS:

TEXAS RESIDENTS: CLICK THE TAKE ACTION NOW:

1. Register and your elected representative and senator contact information will be provided.
2. Email and Call! This can be done in less than 3 minutes.
• Encourage your State Senator to pass SB 2334 (Senate Bill). The Senate can lead and ensure this happens.
• Let your House Representative know you are disappointed this did not get a chance for a vote on the House floor and that with successful Senate passage you expect their support. MAKE IT CLEAR A STUDY BILL IS NOT ENOUGH. You want SB2334 passed!!

3. Finally, call the Gov. Abbott and Lt. Gov. Patrick and ask their support SB2334 and that is make it to the floor.

IF YOU LIVE OUTSIDE OF TEXAS:
Please call Gov. Abbott and Lt. Governor Dan Patrick at the numbers listed below. Call them now and leave a message or try to get them live:

Governor Greg Abbott: 512-463-2000
Lt. Gov Dan Patrick: 512-463-0001

In two simple sentences., share something like:
1. I am calling to ask for you to support SB 2334 and ensure it gets out of the finance committee for a vote and final passage.
2. Let them know you are interested in Texas Transactional Gold and making use of the Texas Bullion Depository.

ALERT: PASSAGE AT THE SENATE SB2334 IS THE LAST CHANCE TO PASS IN THIS SESSION. THE 2025 Session will be too late.

Texas can make it easy for the average American to own gold or silver and spend it when needed. Being able to easily own and transact silver and gold should not be just for the rich anymore.

Texas already has a Bullion Depository and by allowing the use of Texas Transactional Currency, average Americans can easily own gold and silver just like the wealthy do. ATMs made banking accessible to normal people. This bill makes the Texas Bullion Depository accessible to everyone! SB2334 provides the choice of owning gold and silver plus provides an easy way to spend it when needed with a debit card.