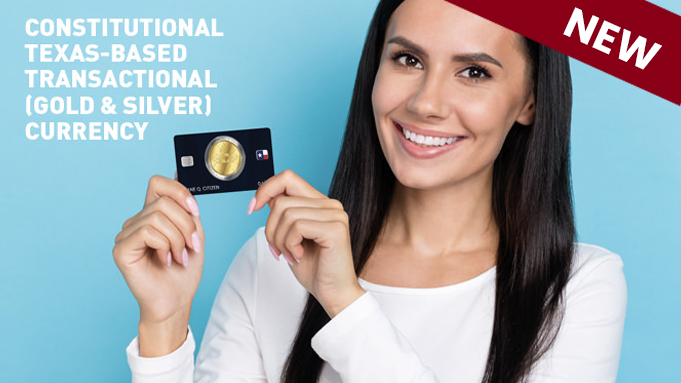 CLICK HERE TO TAKE ACTION NOW TO LET GOV. ABBOTT KNOW IT IS CRITICAL HE INCLUDE TEXAS TRANSACTIONAL GOLD AND SILVER IN HIS NEXT SPECIAL SESSION!

Texas legislators meet once every two years and during normal times we would wait and pass this critical legislation in 2025. Unfortunately, with record inflation, an out-of-control federal debt, and BRICS nations attack on the dollar, 2025 will likely be too late for this important legislation.

With the Texas Bullion Depository already established, Texas is positioned to lead with Constitutional-based Texas gold and silver. This is as simple as allowing Texans to attach a debit card to gold and silver deposits in the Texas Bullion Depository for easy transactions.
It is just another way to pay, but with these key benefits:

• It makes it easy for all Texans to easily own and transact in gold and silver.
• It is easy to execute with the established Texas Bullion Depository. Combining the Texas Bullion Depositors with existing commercial applications, you get gold-based, state-backed, constitutional money that works in a modern economy!
• It is NOT CBDC with all the possible privacy and control concerns. It is not at risk from attacks on the American dollar by Russia, China, the BRICS nations, or others.
• It is a place for everyday Americans to protect their finances!
• With Texas Transactional gold and silver, Texans can have a natural way to save and hedge against inflation.
• It makes owning and transacting in gold and silver easy.


Other states are moving forward for their citizens, but Texas is positioned to lead with Gov. Abbott's inclusion of this in the next special session.

Take Action now! In less than 90 seconds you can email, tweet (X), and make a quick call to Gov. Abbott to let him know this is urgent to Texans and all Americans. This needs to be included in the next special session he calls!