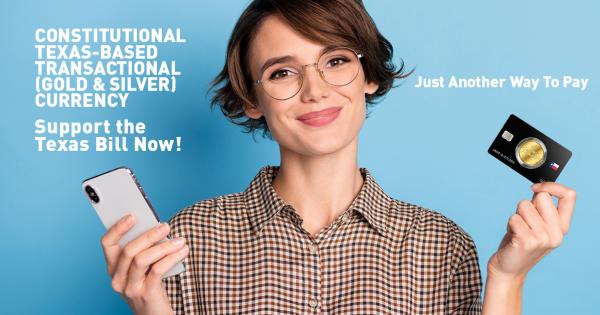 Americans For Financial Freedom
Imagine a Texas Gold Based Constitutional Currency You Can Spend with a Debit Card That Keeps Up with Inflation!

With your support, it can happen now.

GREAT NEWS!! HB4903 has been moved to the Calendars Committee where they decide which bills go to the Floor. It is critical this Bill be expedited and voted on the Major State Calendar!
__________________________________________________________
WARNING: TOO MANY BILLS GET VOTED OUT OF COMMITTEE AND NEVER MAKE IT TO THE FLOOR FOR A VOTE. YOUR ACTION IS NEEDED NOW!
__________________________________________________________

TAKE ACTION: In just few minutes, you can let the Calendars Committee know you want HB 4903 to be placed on the Major State Calendar this coming week to ensure a vote!! Timing is short and action is needed now. IT'S EASY!

1. QUICK EMAIL -In less than 60 seconds you can send an email of support to the Governor and everyone on the committee.
2. THE POWER OF THE PHONE - Be sure to make a quick call to the phone numbers provided encouraging the Calendars committee to ensure debate and a vote! Keep it ringing and be respectful.

Texas can make it easy for the average American to own gold or silver and spend it when needed. Being able to easily own and transact silver and gold should not be just for the rich anymore.

Texas already has a Bullion Depository and by allowing the use of Texas Transactional Currency, average Americans can easily own gold and silver just like the wealthy do. ATMs made banking accessible to normal people. This bill makes the Texas Bullion Depository accessible for everyone! HB4903 provides the choice of owning gold and silver plus provides an easy way to spend it when needed with a debit card. It is the answer to help fight inflation for everyday Americans.

How it Works!
• Article 1, Section 10 of the Constitution allows States to make gold and silver coins "tender." That means useful in making payments. States aren't allowed to print paper money like the Federal Government can and does.
• In the past, using gold and silver to pay for things was impractical.
• But with modern technology, the Texas Bullion Depository can make gold and silver transactional simply by adapting existing debit card technology.
• This has already been proven by other commercial services and is authorized for states to offer under the Constitution. It's time this became a practical option for Texans.
• This is a very modern alternative way to pay like PayPal, MasterCard, Venmo, etc. Safe, convenient, accessible, and affordable.

Texas is already the national leader with a bullion depository. It's time to make the depository accessible for ordinary folks! It's time to add convenience and access of gold and silver for all Americans.

We'd like the Comptroller of Texas to make this possible!